Medicine began with the provider (doctor) doing home visits and having a personal relationship with the patient. Often this patient was someone the doctor knew from the store, church, though family ties, or just from around town. This medical provider was a member of the community. Today…far from it. Doctors (and all healthcare workers) fill a position for company or hospital system. And most are viewed as expendable resources, someone who can be replaced by cheaper labor when they become too expensive or question the robotic process medicine has become.
Quick Question- Who is satisfied with the quality of care they are receiving for their health?
Most individuals are rather unsatisfied with the level of care and attention they receive for their health issues. Hospital mergers, consolidation of practices/resources, focus on "efficiency, and reduction in reimbursement are major reasons for the decline in care.
If you poll healthcare workers across this country you will find many unhappy with the requirements put on them in search of profits for company or healthsystem. While most healthcare workers are displeased with the process, what can be done?
Insert the return of personalized medicine. Putting the patient back at the forefront of healthcare. Once again patients are able to have a relationship with their provider. No more rushed appointments. No more waiting days or weeks for a visit. Simply call the office and be seen quickly and conveniently. This is known by many names, but most commonly as concierge medicine.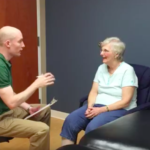 From the provider standpoint, more time gets to be spent with patient care and less on the administrative garbage that really has NOTHING to do with patient care….and that is what it is about…the patients. And what does all this extra time spent with the patient mean? It means patients get the full undivided attention of their provider.
You now get the time to talk to the provider about ALL your concerns. No more bouncing from doctor to doctor, not having a good plan for your health issues and medications. And the medical provider has the time to fully know their patient, their problem and devise an appropriate plan of action.
In the realm of physical therapy, this means no more having waiting days or weeks to get an appointment with your doctor for your muscle aches and pains before you can make your way to someone to help you. No more just wait and see if it gets better. No more only seeing your therapist for 5 or 10 minutes before they are off to the next person. No more having to see multiple therapists during your episode of care.
That's right, you can get fast access to a quality provider, someone who will see you tomorrow. Someone who will spend as much time with you as you need. Someone who will help you achieve your goals of a better quality of life. A provider who will be focused on you and ONLY you. A person who you can build a relationship with that will serve as your guide to a more active and healthy lifestyle.
Interested in this model? Learn more by calling Andrew @ 717-440-6197 or visit www.zangpt.com. Have questions? Want even more information, click HERE.